My vision as a sports physician-cardiologist on 'medically responsible sporting activities'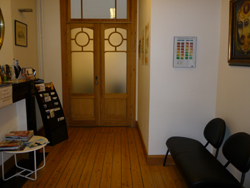 In order to participate in sports activities in a medically responsible manner, a basic medical examination is recommended (questionnaire and clinical examination) for every person (young or old).
Based on the findings of this examination, the patient will be declared fit or unfit for sports participation. If in doubt, the patient will be referred to a specialist for further sports medical screening.
Since 2004, the performance and interpretation of a rest-electrocardiogram has been included in the basic sports medical screening schedule for all athletes in competitive sports from the age of twelve, in order to improve the sensitivity to detect sudden death and other cardiovascular incidents during sports activities (cf. the paradox of sports).
What is the paradox of sports?
The paradox of sports suggests that the incidence rate of sudden death is inversely proportional to daily physical activity and/or physical fitness on the one hand, while on the other hand, sudden death occurs more frequently during physical activity.
What is the current definition of sudden death?
Burke's definition: death by natural causes within 24 hours after the first symptoms or complaints occurred, during or within one hour after exercise.
In the following cases, additional thorough preventive screening for 'cardiopulmonary' conditions is useful
1. if certain uncertainties or potential risks arise from the basic sports medical examination
2.if the type of activity puts a considerable physical strain on the cardiopulmonary system regarding volume, intensity and duration (duathlon, triathlon, ultrasports, etc.)
3. for 'senior athletes' over the age of 35, when two or more cardiovascular risk factors have emerged (standard testing)
4. for 'senior athletes' over the age of 65 (standard testing)
5. for 'professional purposes' if they require a substantial level of cardiopulmonary fitness (cf. firemen screening tests)
6. if there have been recent complaints during physical activities (alarm symptoms), such as light-headedness, loss of conscience, palpitations (rapid heart beat), abnormal shortness of breath or chest distress.
Additional cardiopulmonary sports medical exam
1. questionnaire from the Lausanne protocol with clinical cardiovascular examination
2 rest-ECG and general spirometry
3. maximum exertion test on bicycle, treadmill or rowing ergometer, possibly in combination with spiroergometry (for conditional reasons) and serial lactate curve determination (lactic acid).
4. transthoracic echocardiography
5. possibly Holter, event or wristwatch monitoring
6. possibly 24-hour registration of blood pressure.